Videoconferencing and Real-Time Distance-Learning Systems
The Computing and Administrative Information Division enables Videoconferencing and Real-Time Distance Learning using state of the art videoconferencing systems.
The distance-learning system is able in real-time to transmit/receive lectures from different sites located outside the campus. The videoconferencing system connects the University of Haifa with other universities worldwide, as well as with colleagues, friends, and donors.
We are enabling you to use videoconferencing for:
Teaching in distance-learning environments

Seminar presentation to remote conferences

Staff, admin and research group meetings

Interviews

Private and commercial purposes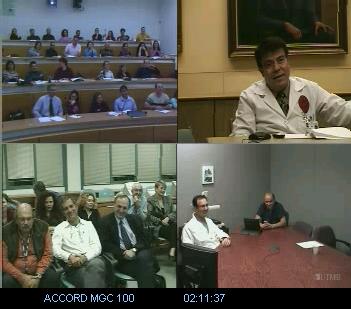 The systems works via IPand located at the following locations:
In addition, we are working with Zoom web-base system. The system needs: regular computer with network, speaker, microphone and camera. The system can connect up to 30 users simultaneously.
The systems can broadcast (video-streaming) live lectures and videoconferences via the Internet (webcasting). Users at any place can listen to and view the lectures. The webcasting can operate from the Videoconferencing Studio and the Hecht Museum Auditorium.
In addition, the lectures and the videoconferences may be recorded by means of the videoconferencing system and uploaded to the video server for future (on-demand) viewing.
For more details, send e-mail to michaelk@univ.haifa.ac.il
For public and private organization, press on the Form in English for videoconference booking, or fill the on-line form.
The Videoconferencing Service is a chargeable service.